MASCC/ISOO 2021 Presentation Summaries
---
Day 2: June 25, 2021 | Prepared by LeCancer.fr
   Presentation Summary Slide Set
Click below for summaries of some of the presentations from Day 2
Day 2 overall summary: MASCC 2021 is in full swing
We are now on the American timezone and the sessions follow one another at a steady pace. The virtual meeting style exercise, although well established over the last 18 months, remains special and a come-back to the face-to-face meeting is expected by all, as the Past President of MASCC, Rajesh Lalla, reminds us in his video interview.
This second day of the 2021 edition has a strong focus on oral complications, and is an opportunity to acknowledge the MASCC/ISOO partnership in this joint annual conference. Numerous papers have highlighted the progress of therapeutics to alleviate oral complications of chemotherapy, radiotherapy and also immunotherapy. While differential diagnosis and therefore clinical assessment are essential, preventive and curative therapies are evolving, particularly with photobiomodulation. Digital health is becoming part of the routine and many studies report its benefits but also its limits, as indicated in the MASCC/SIOG joint session, which highlights the importance of tools adapted to each population.
COVID-19 and its repercussions on the management of our patients remains, of course, at the forefront, as well as immunotherapy with several sessions that now allow everyone to manage the infrequent but potentially severe toxicities as well as possible.
Integrative medicine was highlighted through an educational approach to acupuncture, but also the development of integrative oncology in the post-cancer phase, enriched by proffered papers.
On this theme of survivorship, the after-effects of the disease and its treatments are a major issue for tomorrow. Sergi Bellmunt Montoya's presentation on venous thromboembolic syndrome, during the excellent session on venous thromboembolic events, moderated by Carmen Escalante and Carme Font, reminded us of the impact and the "old" solutions that need to be updated. Compression by bandage or compression stockings should be started within 24 hours of the embolic episode in the lower limb and should not last more than 6 to 12 months. Studies have shown its benefit on pain, edema and residual venous obstruction which form the bed of the post thrombotic syndrome. Compression, in the IDEAL study, was shown to reduce this syndrome by 54% to 46% (OR=0.65 (95% CI: 0.46-0.92) (Amin EE et al. Blood 2018).
When used as recommended, the old methods remain the basis of good supportive care.
Tonight we switch to the Australian timezone and will have travelled the world in 3 days of meeting. Proof, if any were needed, that MASCC is the Multinational Association of Supportive Care in Cancer and is for all of us to share advances for the benefit of the quality of care of our patients.
Pulmonary embolism: Why choose the outpatient setting?
The mortality of cancer patients managed as inpatients for pulmonary embolism is higher than that of outpatients with no increase between groups in major bleeding or recurrence of venous thromboembolic events.
What is the short-term outcome of cancer patients with pulmonary embolism depending on whether they are inpatients or outpatients at the time of diagnosis?
Several studies have already attempted to predict the outcome of patients with pulmonary embolism, such as the Epiphany study (Font C et al. Eur Respir 2017), with identification of good, intermediate or poor outcome risk groups.
An observational study based on registries from two centers was conducted on patients with cancer consecutively received in the context of pulmonary embolism (incidental or symptomatic). The evaluation included 30-day overall and pulmonary embolism-specific mortality, as well as major bleeding and recurrent venous thromboembolic events at 30 days. 
Outpatients accounted for the majority of the 617 patients enrolled in the study (85%).
Among inpatients, 43% had ECOG PS ≥2, 67.4% had no systemic treatment, and 58.9% had symptomatic pulmonary embolism compared with 43.5% of outpatients.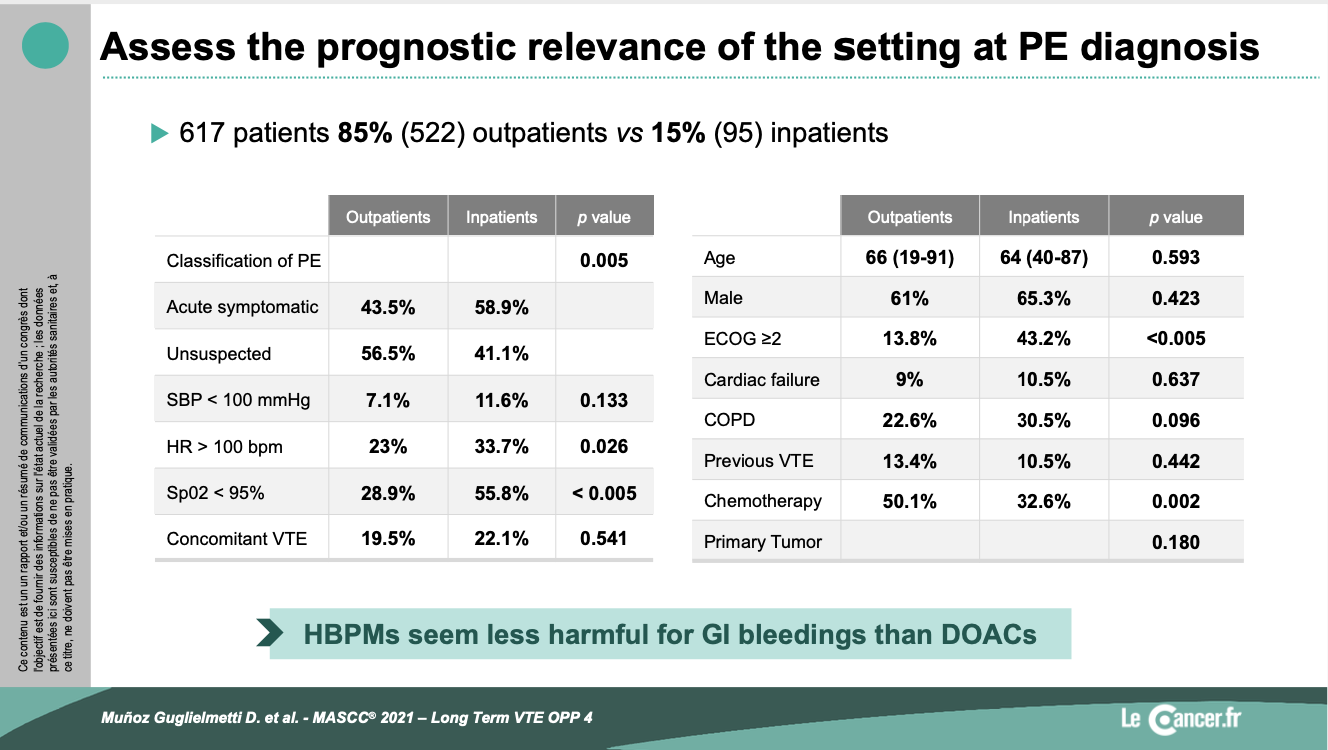 Higher mortality was recorded in inpatients compared to outpatients (30% vs. 13%), with the main cause of death being cancer in both groups.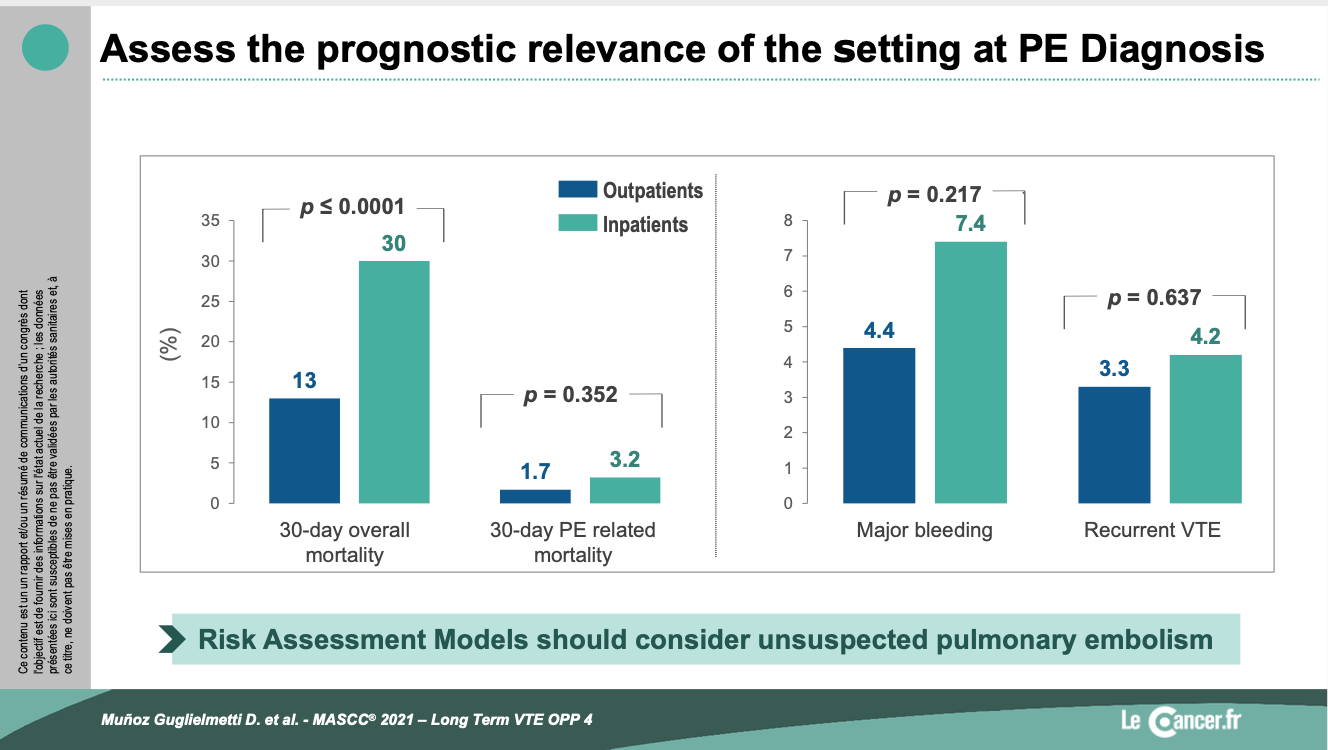 There was no difference in recurrence or major bleeding.
Muñoz Guglielmetti D. "Short-Term Outcomes of Cancer Patients with Pulmonary Embolism According to the Setting (Hospital-Acquired vs. Outpatient) at Diagnosis." MASCC/ISOO 2021 Annual Meeting.
Oral toxicities of immunotherapies: How to better identify them

Immuno-mediated mucositis is a lesser-known condition than chemotherapy-induced mucositis, although it affects nearly 7% of patients undergoing immunotherapy.
T. Vigarios (Toulouse) presented the data in the literature and recommendations for management. The most frequent toxicities are xerostomia (4.6%), stomatitis (2.3%) and dysgeusia (1.6%). Pembrolizumab (anti PD-1) was the main contributor to oral symptoms, followed by nivolumab (anti PD-1) and ipilimumab (anti CTLA-4) + nivolumab. The median time of occurrence of these adverse events is reported to be around 3 months.
Several oral complications were described during this presentation:
Sicca syndrome: Dry mouth with mucosal atrophy or erythema, associated with painful mucositis. Histology shows a CD4-rich lymphocytic infiltrate and the lesions are different from those expected in Gougerot Sjögren's syndrome. Treatment may require the use of sialologues and systemic corticosteroids.

Lichenoid reactions: This is a class effect that may appear after several months of treatment with immunotherapy. The lesions can take on several forms (reticulated, ponctiform, papular, ulcerative, plaques etc.). These toxicities are often not serious and do not require interruption of treatment. Mouthwashes with corticosteroids are an effective measure.

Bullous diseases: These affect 1% of patients undergoing immunotherapy (mainly bullous pemphigoid). The lesions are cutaneous and mucosal in 40% of cases, with the need to interrupt immunotherapy in view of the potential seriousness of the condition in almost one out of two cases. It is an erosive gingivitis that is sometimes difficult to diagnose, requiring a biopsy (direct immuno fluorescence).

Dysgeusia: frequently described (13% of neurological immune-mediated toxicities), difficult to manage.

To illustrate this point, O. Nicolatou-Galitis (Athens) reported his experience of oral toxicities described by 22 of his patients treated with immunotherapy between 2017 and 2021. A total of 15 oral attacks were considered immuno-mediated: 13 patients had lichenoid reactions, 2 had benign mucosal pemphigus, 3 presented exacerbations of pre-existing autoimmune pathologies. Immunotherapy was discontinued for other immuno-mediated toxicities (interstitial lung disease), thrombosis or tumor progression.
In conclusion, oral complications of immunotherapy are usually mild and manageable, but may require specialist counselling if there is no improvement with local care, so that bullous disease is not overlooked.
Vigarios E. "Oral and Dermatologic Toxicity of Immunotherapy." MASCC/ISOO 2021 Annual Meeting.
Nicolatou-Galitis O. "Oral Complications in Cancer Patients, on Immunotherapy. A Series of 22 Patients." MASCC/ISOO 2021 Annual Meeting.
Immuno-mediated systemic diseases: Real-life data!

These toxicities of immunotherapies are very little described in the literature. This study on 4500 patients reports a frequency of 0.025% with most often a possible continuation of the treatment.
The most frequent immuno-mediated cutaneous toxicities are maculo-papular rash (4-16%), pruritus (10-26%) or vitiligo (2-13%). Concerning systemic diseases, rare cases have been reported in the literature: scleroderma, dermatomyositis, lupus erythematosus, eosinophilic fasciitis, lupus nephritis.
The aim of this retrospective study was to evaluate the frequency of these de novo pathologies attributed to immunotherapies in the context of routine care and to describe their management.
A total of 4487 patients were treated between 2013 and 2019 at two US centers (Dana-Farber Cancer Institute and Mass General Brigham), of whom 11 (0.025%) presented with a confirmed immuno-mediated systemic disease: 8 cases of subacute cutaneous lupus erythematosus, 1 case of systemic lupus erythematosus, 1 case of eosinophilic fasciitis and 1 case of dermatomyositis. Interestingly, no cases of scleroderma or systemic sclerosis were observed.
Of these 11 patients with systemic disease, 9 had positive antinuclear antibodies.
The treatments for these toxicities were as follows
subacute cutaneous lupus erythematosus: dermocorticoids, antihistamines and photoprotection. For 3 patients, it was necessary to introduce hydroxychloroquine

systemic lupus erythematosus: dermocorticoids, photoprotection

eosinophilic fasciitis: dermocorticoids, natural UV light

dermatomyositis: systemic corticosteroids, dermocorticoids, topical tacrolimus and hydroxychloroquine

Immunotherapy was discontinued in 5 patients (1 permanently)
In conclusion, this large retrospective study makes it possible to estimate the low frequency of these pathologies and to reassure about their evolution under supportive care treatments, with the exception of dermatomyositis.
Bui AT. "De Novo Cutaneous Connective Tissue Disease Temporarily Associated with Immune Checkpoint Inhibitor Therapy: A Retrospective Analysis." MASCC/ISOO 2021 Annual Meeting.
Moving forward in cardiac oncology

Significant progress has been made in preventing and treating cardiac complications of cancer treatment. Yet, these insidious toxicities remain the leading cause of mortality.
The three speakers of the day presented important advances in the understanding and anticipation of cardiac complications while keeping a critical eye on still imperfect means of evaluation.
T. Suter reminded the audience that cardiac dysfunction is a progressive pathology that is particularly severe in young patients who have received chemotherapy. The level of risk should be estimated according to age and comorbidities, anthracycline doses, association with other cardiotoxic treatments (trastuzumab, anti-VEGF, proteasome inhibitors or combination of immunotherapies) or thoracic radiotherapy.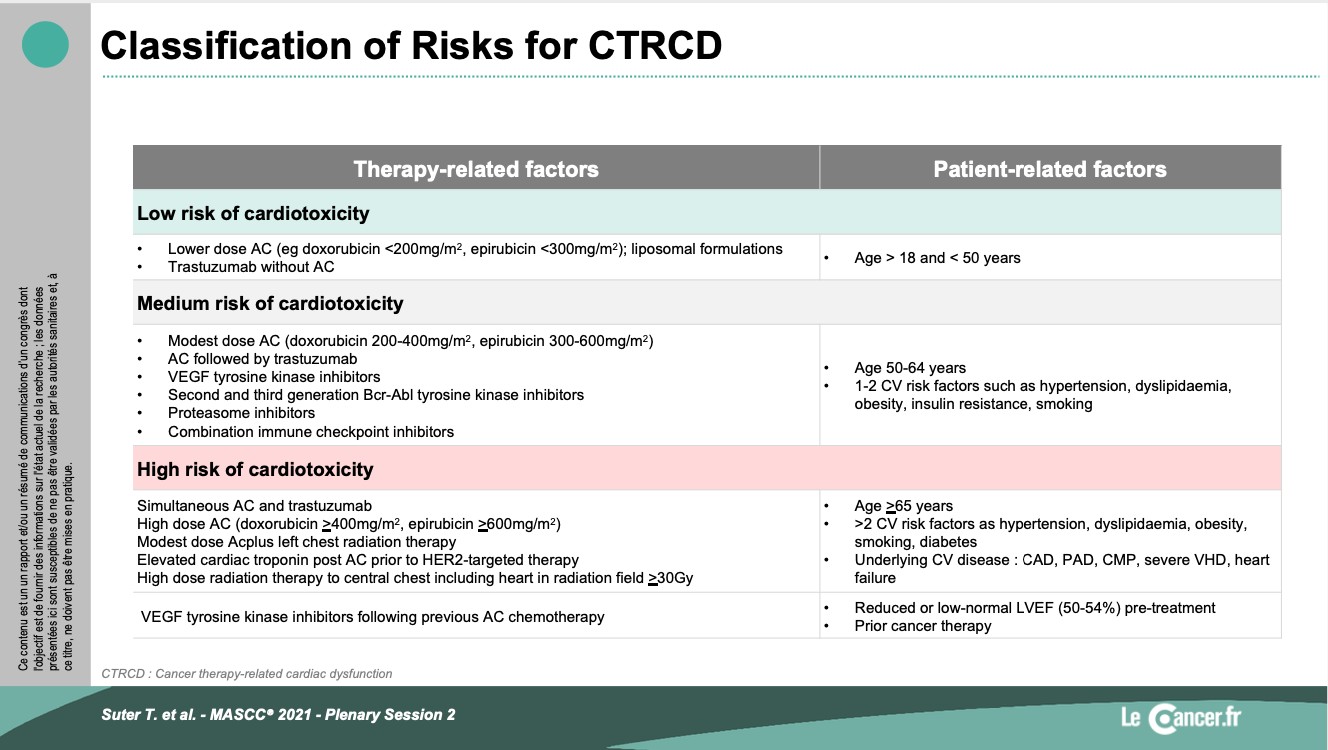 While cardiac ultrasound is the main tool for monitoring, Ewer pointed out the limitations of this test. Indeed, the risk of false positives for a one-year monitoring with 4 assessments is estimated at 3.6%. Estimation of ejection fraction can be difficult and requires repeated examinations which will be guided by the clinical assessment (symptomatic or not).
Finally, the major impact of oncocardiology prevention concerns pediatric populations. S. Lipshultz mentioned the interest of Dexrazoxane in primary prevention. This treatment developed in the 2000s blocks the binding of anthracycline to Fe3+, thus reducing the release of free radicals that are particularly toxic to myocardial cells. Over the past 20 years, 9 studies have questioned the benefit of Dexrazoxane and shown its cardio-protective role allowing dose escalation of anthracyclines, particularly for children with pre-existing cardiomyopathies. Dexrazoxane has a limited effect in adults and remains seldom used.
Suter T. "Cardio-Oncology: Beyond Left Ventricular Dysfunction." MASCC/ISOO 2021 Annual Meeting.
Ewer M. "Looking at Cardiotoxicity in the Clinical and Research Setting." MASCC/ISOO 2021 Annual Meeting.
Lipshultz SE. "Beginning with the End in Mind: Cardiotoxicity after Childhood Cancer." MASCC/ISOO 2021 Annual Meeting.
A pilot study opening up great prospects for advanced practice nurses!

In this study conducted in the oncology department of Copenhagen University Hospital, where she works, Helle Holm Gyldenvang, a clinical nurse specialist, shows us the beneficial impact of nurse-led consultations. This added value is recognised by both the patients and the nurses who participated in the study.
This Danish study aimed to understand the value of follow-up consultations by nurses for patients newly diagnosed with breast or gynecological cancer. To answer this question, the patients answered a questionnaire whose answers were graded according to the Likert scale and the nurses were also interviewed in two distinct groups: breast cancer and gynecological cancer. The nurses participating in this nursing consultation had an average age of 49.5 years and professional experience ranging from 2 to 29 years (average 14 years).
The majority of patients were very satisfied with the information they received in response to their questions (85.3%), and 91.7% of the topics discussed met their expectations. Moreover, 97.6% of them felt perfectly listened to and taken into account. One thing to note, however, is that only 53.2% of them felt that they could call a doctor if they felt the need.
On the nurses' side, 3 main themes emerged from the interviews:
Creation of a holistic care model with a sense of pride in the work done. All issues are addressed, including those that may sometimes remain taboo, such as sexuality.

Improvement of the professionalism of the nurses conducting these consultations. In order to respond to patients' requests, they develop new skills and improve their professional posture within the multi-professional team.

Definition of a framework and organization for new models of care. This model of care allows for mentoring and improved collaboration with the doctor. The framework of care is flexible and adapted as the care progresses.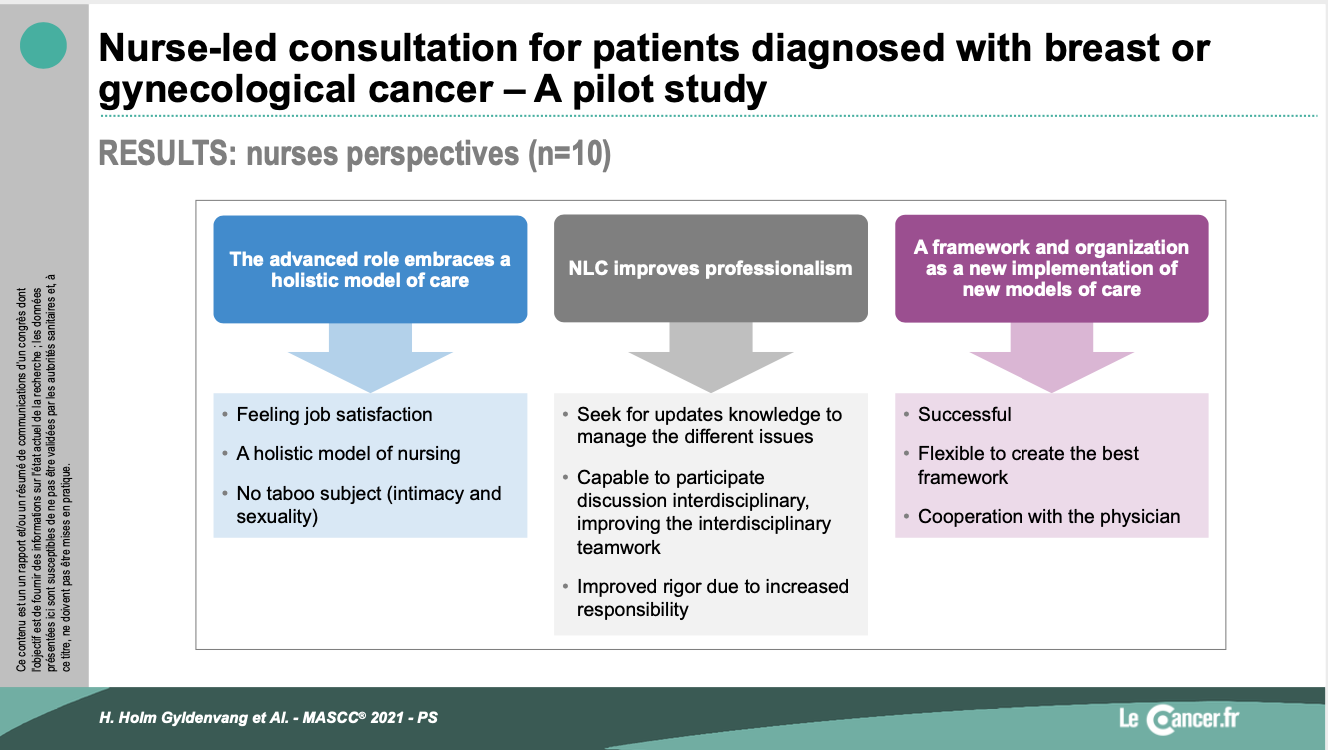 In conclusion, this study shows the acceptability of this model of care by the patients with very positive feedback from them. The safety of the care is well respected. In addition, nursing care is valued and their leadership is increased, which leads to better job satisfaction.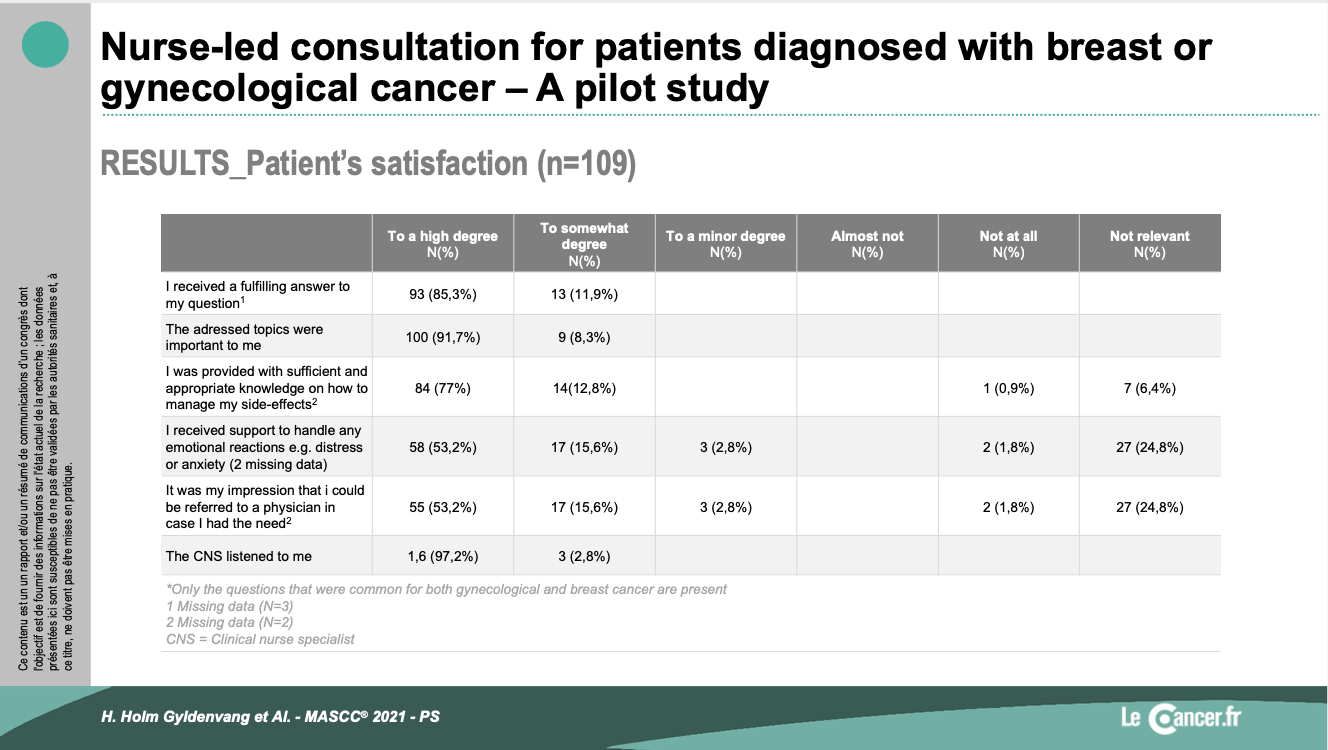 This patient-centred care model should make it possible to meet many quality criteria in the care of cancer patients and the recent legislation on advanced nursing practice. However, it may require a paradigm shift for some.
Gyldenvang HH. "Nurse-led consultations for patients diagnosed with breast cancer or gynecological cancer – A pilot study." MASCC/ISOO 2021 Annual Meeting. 
Vitamin D at high dose against bone loss: Does it work?

The value of high dose of vitamin D for the prevention of osteoporosis in patients treated for breast and prostate cancer.
Osteoporosis is a major problem in patients treated for breast cancer (estimated bone density loss of 2.4% per year in women treated with anti-aromatases and in men treated with androgen deprivation therapy). There is a link between bone density and fracture risk and between hip fracture and survival in women with breast cancer. Vitamin D plays an important role in bone metabolism, with a dose-dependent effect and with the knowledge that vitamin D deficiency is common in these patient populations.
The aim of this preliminary study is to evaluate the value of high doses of vitamin D in patients treated either for breast cancer (postmenopausal patients undergoing hormone therapy) or for prostate cancer (patients undergoing androgen deprivation therapy) and in a vitamin D deficient situation.
Patients were randomized to receive high dose vitamin D (50,000 IU/week) or placebo for 24 weeks. All patients received an additional 600 IU vitamin D/day plus 1g calcium. The primary objective was to measure bone loss at the hip and spine.
164 patients were included. Among patients receiving high doses of vitamin D, serum vitamin D levels were well increased compared to the placebo group, but without any change in blood calcium levels.
With regard to bone density, a protective effect was found at the hip but not at the spine: note that this is particularly significant in patients with initially lower vitamin D levels.
High dose vitamin D supplementation appears to be safe and may prevent some bone loss in patients undergoing hormone therapy for breast or prostate cancer. Prospective randomized trials are needed before conclusions can be drawn.
Peppone L. "Safety And Efficacy Of High-Dose Vitamin D Supplementation For Bone Loss In 164 Breast And Prostate Cancer Patients." MASCC/ISOO 2021 Annual Meeting. 
Integrative oncology

Integrative oncology is based on complementary practices whose levels of evidence are increasing due to clinical research, but also in a concern for a patient-centered approach, listening to the patient's symptoms and coordinating all the players in order to offer a personalized care pathway, particularly after the disease.
An entire session of the MASCC 2021 congress was devoted to complementary and alternative practices. The lecture given by J. Mao on the role of acupuncture in alleviating the undesirable effects of treatment was a reminder of the importance of evidence-based medicine, but also of the importance of listening to the patient's needs. He then reported several results of therapeutic trials focusing on the benefit of acupuncture in pain, particularly related to anti-aromatase drugs in breast cancer, but also in chemo-induced neuropathy.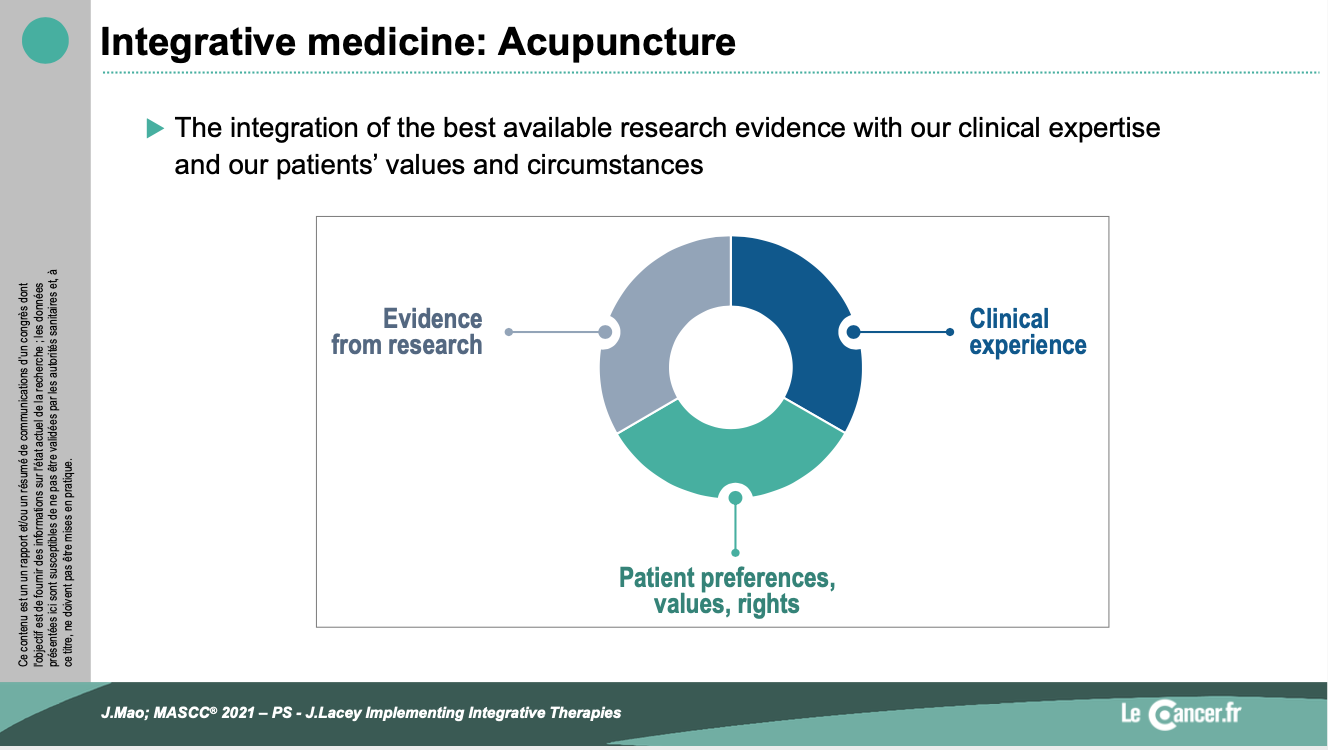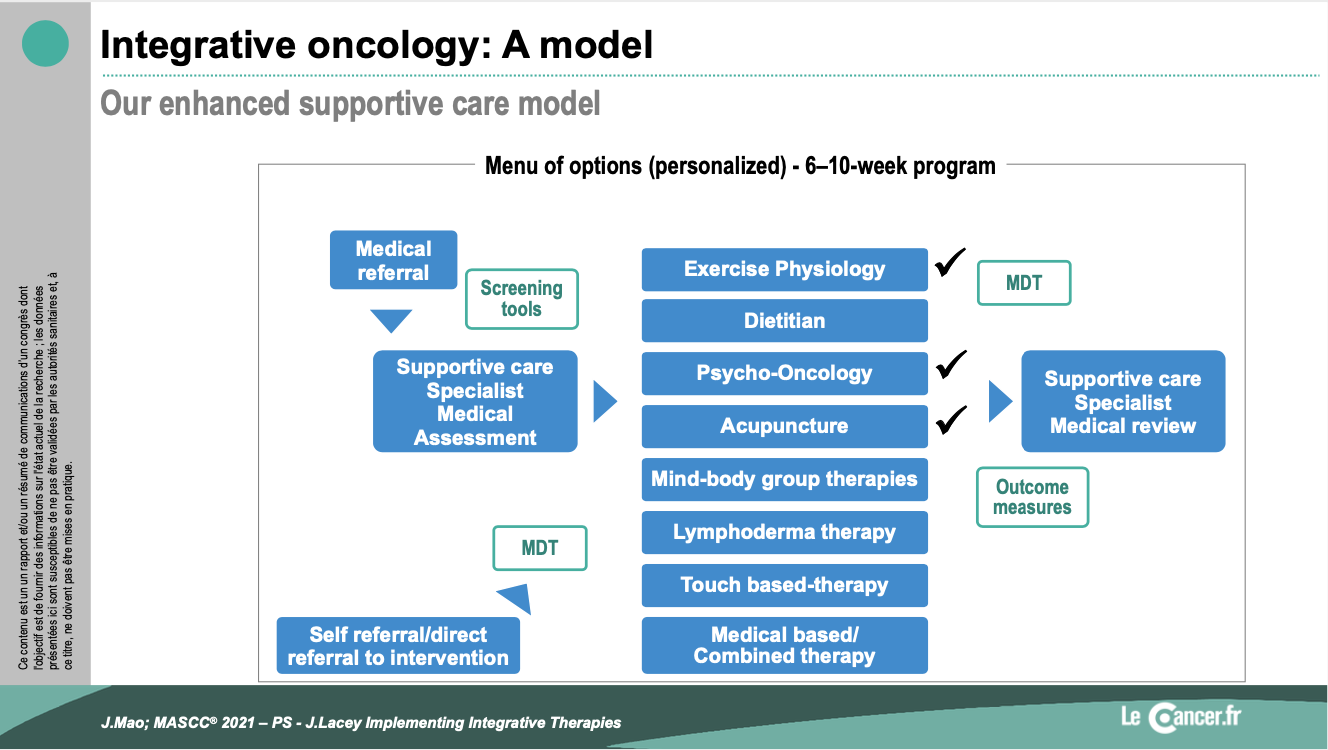 His presentation ended with a discussion of patient choice and experience, noting that 41% of patients are not aware of acupuncture, 25% have a lack of insurance and 22% have a cost barrier (Bao T et al. Intregr Cancer Ther 2018). Regardless of this observation:
The number of published articles is increasing with 69 pubmed indexed articles in 2020

Therapeutic trials in pain, sleep disorders or xerostomia are increasing and are published in high level journals

The practice of acupuncture includes 5 out of 11 NCCN guidelines published in supportive care
Judith Lacey went on to talk about the value of integrative medicine in the survivorship phase, which combines mind-body practices, the use of natural products and lifestyle changes for informed and focused patients. She has also defined the survivorship as including prevention of new cancers and follow-up of cancer in remission, as well as coordinated interventions between specialists and health professionals in the field to prevent and manage the adverse effects of cancer and its treatment. These approaches can be implemented through specific programs and by using patient self-assessment measures.
Finally, she has promoted consultations combining supportive care and integrative oncology to develop personalized support programs for patients after the disease.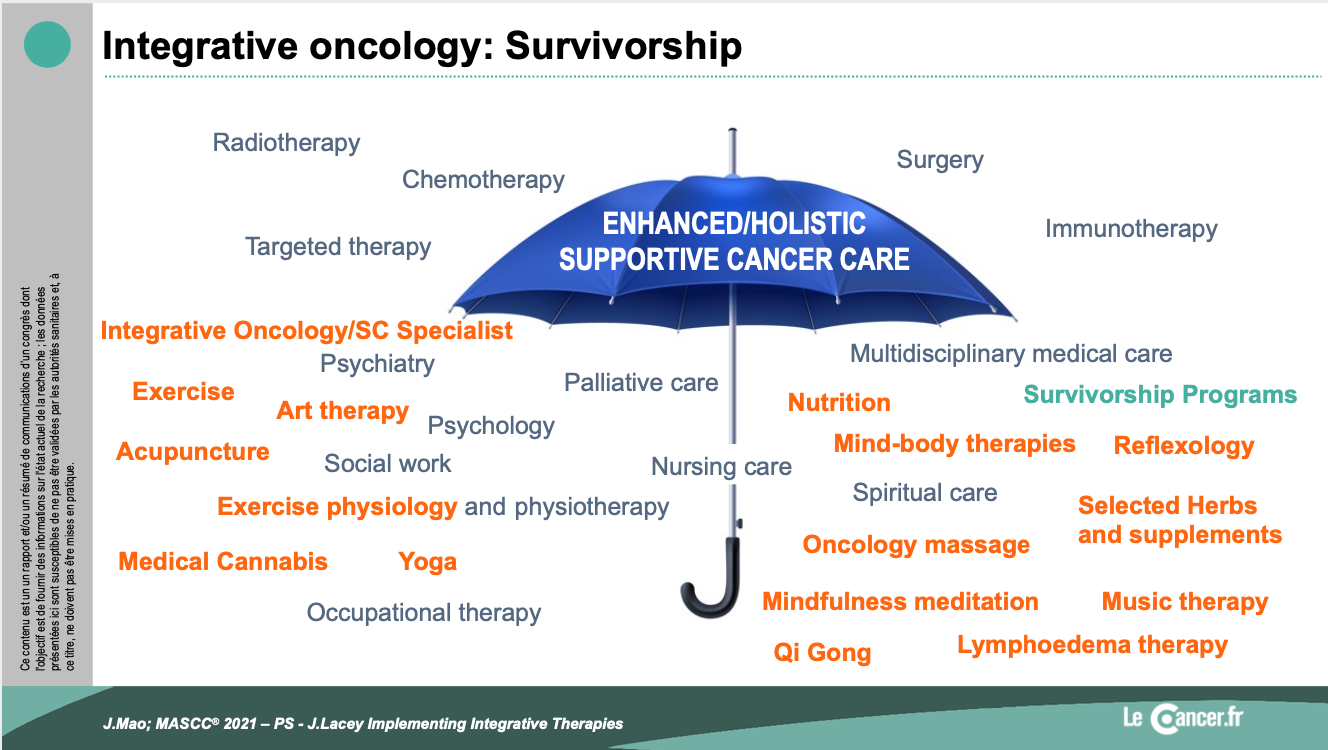 Mao JJ. "Integrating Acupuncture to Manage Neurological-Related and Other Physical Side Effects: Lessons Learned." MASCC/ISOO 2021 Annual Meeting.
Lacey J. "Implementing Integrative Medicine as Part of Cancer Survivorship." MASCC/ISOO 2021 Annual Meeting. 
Bleeding on anticoagulants: EMA pharmacovigilance

LMWHs appear to be less likely to cause GI bleeding than DOACs based on EMA post-marketing data.
In addition to efficacy, the question of the safety of anticoagulants, particularly with regard to bleeding, is one of the criteria for choosing the best treatment to offer our patients in the curative treatment of a thrombo-embolic event, as well as in prophylaxis.
An analysis of EMA (European Medicines Agency) pharmacovigilance data was carried out in 2019 to assess data relating to LMWHs (Low Molecular Weight Heparin) and DOACs (Direct Oral Anticoagulants).
This study did not include VKA drugs but included 216,540 bleeding cases reported to the EMA in pharmacovigilance, of which 183,949 were for DOACs and 32,591 for LMWHs. A total of 2080 cancer patients (defined as those undergoing cancer treatment) and 79,783 non-cancer patients were included in this analysis. Of note is the absence of data on the neoplastic status of 134,677 patients in the overall cohort.
Digestive bleeding was found in both cancer (10.3%) and non-cancer patients (16.0%).
GI bleeding was higher in patients on DOAC (17.6%) than in patients on LMWH (3.7%) with a similar trend in cancer and non-cancer patients.
Vigilance will be maintained on the findings of this study in view of the large number of patients without information on their cancer status.
Elalamy I. "Safety Profiles of Anticoagulants Using the EMA Pharmacovigilance Database." MASCC/ISOO 2021 Annual Meeting. 
PREDICARE : How to predict recurrent VTE?

The PREDICARE study does not validate the Ottawa score to predict the risk of recurrence of venous thromboembolic events.
Recurrence of venous thromboembolic events is a major problem affecting more than 6% of patients at 6 months with long-term LMWH therapy. Predicting high-risk groups would allow long-term anticoagulation therapy to be tailored. The Ottawa score takes into account gender, primary cancer and its stage, and history of venous thromboembolic events. It defines in its modified form (by integrating a new component related to hematological malignancies) 3 levels of risk: low, intermediate and high.
The objective of the PREDICARE study, a prospective observational and multi-center French study led by Guy Meyer, who was honored during the session, was to validate this score on a cohort of patients on tinzaparin (LMWH). Follow-up was scheduled at 3 and 6 months with 409 patients included in the study. Unfortunately, 104 of them did not reach the 3-month threshold, impacting the power of the study.
The endpoint was a target AUC value ≥ 0.7.
As the value reached was only 0.6, validation was not achieved despite a suitable methodology with a homogeneous population under a single type of anticoagulant, a prospective design and a sustained inclusion rate over 1 year.
Scotté F. "Treatment Compliance in Patients with CAT Receiving LMWH: Learnings from PREDICARE, a Non-Interventional Prospective Cohort Study." MASCC/ISOO 2021 Annual Meeting. 
The impact of COVID-19: Activity and particularities of hospitalizations in oncology

This session will discuss the importance of the impact of the COVID-19 pandemic on a vulnerable population, the assessment of hospitalization data and the impact on workload.
The COVID-19 epidemic has had a major impact on different health systems.
Giada Targato focused on the impact on clinical activity, using the example of an Italian reference center. International and European learned societies have recommended that curative treatments for cancer patients should not be interrupted, to limit the impact on their survival. For this reason, it was necessary to reorganize clinical activity by integrating the prevention measures of COVID-19, especially since cancer patients are defined as a vulnerable population. To do this, she compared the activity on different criteria, from the year 2020 and the year 2019, with a focus on the peak of activity between February and March 2020. The result is that activity has remained stable overall, with a strong decrease in follow-up consultations, which have however been compensated by teleconsultation. Only unscheduled consultations decreased significantly (-24%).
For her part, Dr JG Manzano focused on defining the particularities of hospitalizations for COVID-19 of cancer patients, with a focus on the period from 23 March to 30 September 2020.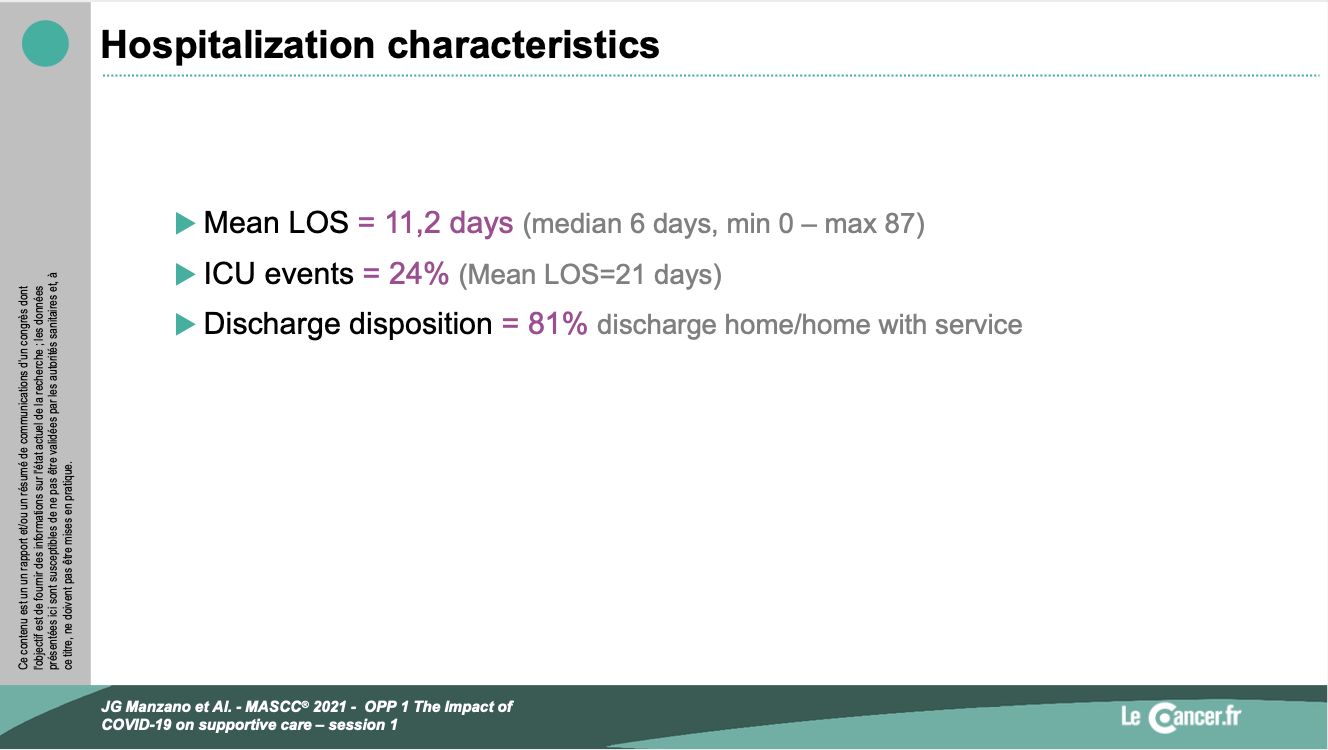 Like all other centers receiving cancer patients, there has been an adaptation of the organizations to the health context. The average age of the patients hospitalized was 59 years, of Caucasian or African-American origin (76%) and mostly women (54%). Regarding the type of cancer, for solid tumors there was a majority of breast cancer and for hemopathies, lymphomas. The average length of stay was 6 days (from 0 to 87 days) and 81% of patients were able to discharge home.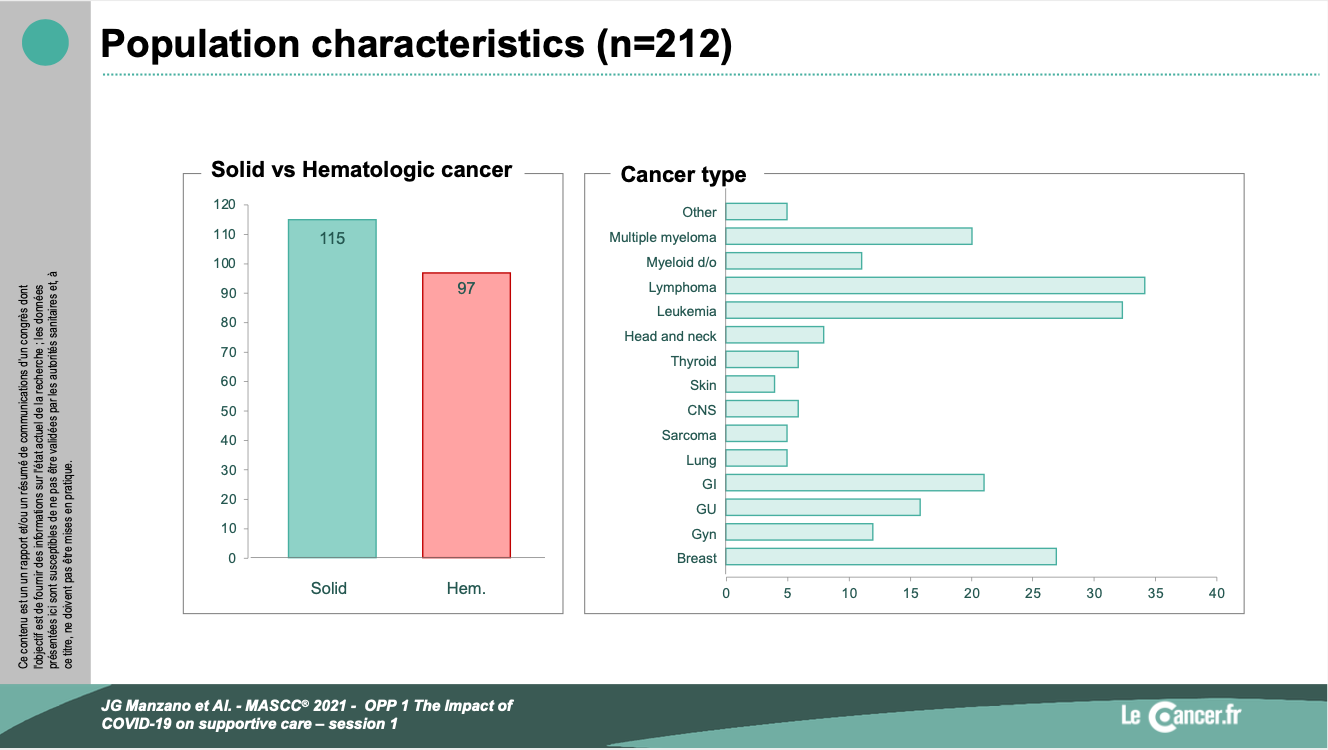 Intensive care was required in 24% of cases and the mortality rate of hospitalized patients was 10.8%, with a 30-day mortality rate of 24.5%. In addition, 32.8% of patients discharged home were re-hospitalized.
These two presentations show us that with changes in the organizations, due to the health context, it has been possible to maintain critical activity in oncology. However, given the vulnerability of this population, it is necessary to remain vigilant and to continue to evaluate the data in order to continue to care for patients and maintain their survival by adapting the care.
Targato G. "The Impact of COVID-19 Pandemic on Oncology Workload in an Italian Reference Cancer Center." MASCC/ISOO 2021 Annual Meeting. 
Manzano JG. "Hospitalization Characteristics and Outcomes of Patients with Cancer and COVID-19." MASCC/ISOO 2021 Annual Meeting.
Extra-oral photobiomodulation to relieve ENT mucositis

Photobiomodulation applied directly to the oral mucosa is part of the therapeutic arsenal for the treatment of mucositis. Its external application (on the cheek) would be much simpler, and therefore potentially allow a wider use.
Although photobiomodulation is now recognised as an effective treatment for chemo- or radiation-induced oral mucositis (see MASCC recommendations), its use remains limited, particularly because of the precision that this technique requires and therefore the nursing time needed.
The Brazilian study reported here is therefore welcome, assessing the value of using external photobiomodulation on the cheeks to prevent and treat radiation-induced mucositis.
It is interesting to note that one of the justifications for this study is the COVID crisis, with the difficulty of using intra-oral equipment due to the risk of infection.
The protocol was prospective, randomized and double-blind and involved patients treated with radiotherapy (60-70Gy) for ENT or oral cancer. Patients received one session per day of photobiomodulation with the machine on or off (placebo) applied to the cheeks, chin and neck. Patients were assessed for mucositis intensity, pain, use of analgesics and anti-inflammatories and quality of life.
To date, 55 patients have been included.
The intensity of mucositis was not significantly modified by the treatment. However, the average pain level (over the 7 weeks of radiotherapy) was significantly lower in the treated group (average VAS pain 2.1 vs 4.5, =0.009), as was the consumption of analgesics. Indeed, 52% of the patients did not require analgesics, compared to 13.6% in the placebo group, p=0.002. Quality of life was also better preserved among patients treated with photobiomodulation. Furthermore, the anti-tumor efficacy of radiotherapy seems to be maintained.
If the preliminary results reported here are confirmed, this simplified technique of using photobiomodulation could allow a greater number of patients to benefit from it.
 Kauark-Fontes E. "Extraoral Photobiomodulation Therapy for Oral Mucositis in Oral and Oropharyngeal Cancer Patients: Interim Analysis of a Randomized Clinical Trial." MASCC/ISOO 2021 Annual Meeting.
Thanks to LeCancer.fr for preparing these summaries 
---
MASCC/ISOO 2021 Presentation Summaries
Virtual  •  June 24-26, 2021  •  #MASCC21
Day 1  |  Day 2 |  Day 3