MASCC/ISOO 2021 Presentation Summaries
---
Day 3: June 26, 2021 | Prepared by LeCancer.fr
   Presentation Summary Slide Set
Click below for summaries of some of the presentations from Day 3
Day 3 overall summary: Last day of MASCC meeting revival: Australian time zone

The world tour through the different time zones imposed by the frantic rhythm of the meeting allowed some not to sleep and others to fall asleep or to wake up on high quality sessions.
This MASCC/ISOO 2021 meeting was long overdue, but it lived up to all the expectations of the two years of disruption caused by COVID-19.
Maryam Lustberg (USA), our "President elect" is highly invested in the theme of survivorship and will certainly allow, during her next mandate, to pursue and amplify the work around survivorship: this is what she announces in her video interview.
Moreover, the survivorship session, which almost closed the conference, laid the foundations for a new definition that encompasses the entire cancer patient pathway from diagnosis onwards, with the aim of taking into account all the specificities of this continuum. This excellent session, co-chaired by Anna Boltong and Raymond Chan (both from Australia), shared a number of truly international views.
A message from Andrew Davies, our President: "Living With and Beyond" and from Ana Casas (Sevilla, Spain) a patient and medical oncologist who set the goal of the education and research work that MASCC must do to enable our patients to achieve a "New Normal Life".
Before ending with a session on communication, particularly towards minorities, in order to engage patients for the quality of their lives, we were able to share the MASCC – JASCC meeting with a specific look at uncertainty (Penelope Schofield, Australia), taking into account unmet needs (Laureline Gatellier, Japan) and genetic counseling (Chieko Tamura, Japan) in order to remind us that MASCC will take place in Japan in 2023.
Before we meet again in Toronto in 2022, we hope to see you there physically, we must thank Andrew Davies and the MASCC team for giving us the opportunity to attend this amazing Reunion Congress and for allowing our team, www.lecancer.fr, to cover the event and share our highlights with the international supportive care community.
Thanks to Karine for her nursing approach to the sessions, Claire and Mario for their medical insight through their experience. Thanks to Laurence and David for their discreet but unfailing technical support and to Nathalie for the logistical supervision in a velvet glove, during the whole event.
Saturday, June 26, 2021, 11:59 pm, MASCC 2021 closes and we finally go to sleep to adjust to our own time zone, dreaming of physically meeting all our friends from around the world, invested for the supportive care in Toronto from June 23 to 25, 2022.
To make it through this year, remember that "Supportive Care Makes Excellent Cancer Care Possible".
30 years of MASCC

Dorothy Keefe, a MASCC President as Historian. Innovation, emotion and engagement!
The plenary session on models of supportive care, chaired by Joanne Bowen, was an opportunity for Dorothy Keefe, one of the past Presidents of MASCC, to look back on her career and pay tribute to Ed Rubenstein who inspired her to become involved in MASCC. She recalled two fundamental principles of the association:
Its multidisciplinary and multinational character

Its key message: "Supportive Care Makes Excellent Cancer Care Possible".
The first ten years of MASCC were groundbreaking with the creation of the international congress and journal Supportive Care in Cancer as well as study groups (febrile neutropenia, antiemetics, mucositis), thanks to the holistic approach of Jean Klastersky, the founder of MASCC:
Applies to the entire duration of the disease

Addresses all the aspects of the patient

Needs multiple competences

Requires international dimension
She also paid tribute to the great names attached to the important stages of the initial history of supportive care (E. Freireich, G. Bodey, S.C. Schimpff, H.J. Senn and R. Gralla). Early work proposed the MASCC tool to assess the risk of complications of febrile neutropenia and the Perugia antiemetic recommendations.
ISOO (International Society for Oral Oncology) subsequently joined MASCC in a joint annual congress, Richard Gralla provided a strategic and regulatory perspective for the development of the association, Matti Aapro shaped the international character of MASCC, particularly beyond the English language (AFSOS, RASCC, JASCC, etc.), as well as opening up to extreme ages (particularly with the SIOG). Paul Hesketh imposed the alternation Europe / US for the congress site and impacted the educational leadership.
The predictive approach to toxicities was put forward by Steve Sonis in 2007 and Jorn Herrsted transformed the organization by professionalizing the MASCC office. Steve Grunberg, a true leader in antiemetics, was remembered.
Since then the Study Groups have developed, with a particular focus on research and training. Each President has made a contribution to MASCC and Maryam Lustberg who has just been elected will be the second woman President after Dorothy Keefe from July 2022.
Although the Patient Centered Care message is now well established, she advocated for two new challenges:
Enhancing the patient partnership

Modernizing the methodology of guidelines.

Finally, the story that will continue for at least another 30 years, cannot be done without remembering that "Supportive Care Makes Excellent Cancer Care Possible".
Keefe D. "Supportive Care - 30 Years of MASCC." MASCC/ISOO 2021 Annual Meeting.
Compliance with nausea and vomiting recommendations: There is room for improvement!

Despite easy access to the recommendations of learned societies on the prevention of chemo-induced nausea and vomiting, with clearly defined guidelines, it would seem that they are not always followed very well...
Chemo-induced nausea and vomiting (CINV) is one of the most common toxicities experienced by patients. Recommendations for CINV prophylaxis have long existed and are regularly updated. Several surveys suggest that they are underused.
In this observational, multicenter study by Matti Aapro et al., the Nausea and Vomiting in Cancerology Registry (NERO) was used, which collects data from several European countries. It reiterates the guidelines (MASCC/ESMO 2016) and classifies CINV prophylaxis into 2 categories: GCCP (prophylaxis harmonised with the guidelines) and GICP (prophylaxis different from that proposed in the guidelines). Prescriptions for CINV-limiting therapies are at the discretion of each prescriber.
The number of patients included in this study was 1089 with 74.6% being women. Only 251 patients were in the GCCP group versus 838 in the GICP group. In both the acute and delayed phases of nausea, 77% of patients did not receive the expected CINV prophylaxis. And when we look at the impact on CINV, we can see that 60.2% of patients who received highly emetogenic chemotherapy had a complete response in the GCCP arm versus 47.8% in the GICP arm. The ratio is about the same for moderately emetogenic chemotherapy, with a significant p <0.05.
Such results should encourage prescribers to follow international guidelines, but this does not seem to be enough. It is therefore becoming urgent to understand all the issues involved in the lack of compliance with the guidelines in order to encourage oncologists to follow these recommendations, which make it possible to limit the adverse effects suffered by patients and which influence their quality of life.
Aapro M. "Impact of antiemetic guideline compliance on prevention of chemotherapy-induced nausea and vomiting (CINV): Nausea/emesis registry in oncology (NERO)." MASCC/ISOO 2021 Annual Meeting.
The Italian experience of an outpatient endocrino-oncology department

Sharing experiences helps to improve the management of patients' toxicities. An example from the endocrinology-oncology department in Pisa (Italy).
Immuno- or VEGFR-mediated endocrine toxicities are frequent and often require hormonal supplementation. In order to improve communication between the oncology and endocrinology departments, the University Hospital of Pisa decided to create an outpatient endocrino-oncology department. Assessments were performed at the initiation of immunotherapy or anti-VEGFR treatment and in case of endocrine toxicities (ET).
A total of 94 patients were analyzed (61% at baseline and 39% for ET) of whom 54% had all-grade ET. Thyroid dysfunction was mainly reported (86% hypothyroidism and 4% hyperthyroidism). Only 3 (6%) and 2 (4%) patients had adrenal insufficiency and hypophysitis respectively. Toxicities were mild (grades 1-2) in 86% of cases.
Replacement therapy was used in 96% of patients and 25% received corticosteroid therapy. Immunotherapy or anti-VEGFR was continued for most patients.
In conclusion, this study highlights an example of fruitful collaboration between oncologists and organ specialists around supportive care.
Sbrana A. "Multidisciplinary Treatment of Endocrine Toxicities from Targeted Therapy and Immunotherapy: An Integrated Management Model." MASCC/ISOO 2021 Annual Meeting.
State of the art of self-management in cancer care

Self-management in health care is not yet mastered by patients and carers and requires adaptations in health care functioning and behavior.
According to Dr Doris Howell, we are lagging far behind in patients' self-management of their cancer disease on a daily basis.
It is the patients and their families who are responsible for their health 24 hours a day. And the state of health of each individual depends on the way in which patients decide to integrate care and treatment into their health management. Education alone is not enough to adopt behaviors to maintain good health, and patients need to be encouraged to engage in self-management. It was necessary for health care staff to provide education to improve patients' skills and confidence in managing their health problems.

These programs should be based on building self-efficacy and basic skills for effective self-management, and should include regular assessment of patients' progress and problems. They are based on problem solving, decision making, self-monitoring of one's own behaviors and symptoms with appropriate response, goal setting and action planning, partnership with carers and risk reduction.

What is certain is that support for self-management of one's health can improve it, but how do we integrate it into our daily practice? To do this, it seems necessary to change the whole organization of the health world: from patients to carers to the health system. One promising practice is to develop self-management based on life-sustaining care. D. Howell described an example of self-management with the presentation of the results of the study by Eakin et al. In 2020. He was able to enroll 63.4% of the 1183 remission patients included in this experiment in self-care which consisted of health coaching. It was telephone coaching consisting of 12 calls over 6 months.

For Dr. Howell, each stage of a cancer patient's care journey can be an opportunity to teach self-care. Personalized medicine is also about guiding patients to better manage their health.
Howell D. "Implementing Self-Management in Cancer Care - the Knowns, the Unknowns and the Unknown Unknowns." MASCC/ISOO 2021 Annual Meeting.
Survivorship, go ahead

The concept of "survivorship" requires a functional definition that should not be a label but a will to allow patients to live a "new normal life".
The plenary session on survivorship led to a lot of interaction between the audience with strong messages about the evolution of the concept and the definition of the topic.
Raymond Chan highlighted the notion of time between diagnosis and end of life and proposed the MASCC definition of survivorship: "the time between diagnosis and end of life" which includes supportive care, palliative care but in fact LIFE.
Andrew Davies reported a critical European view of the National Cancer Institute's definition which may appear incongruous, insensitive, meaningless. He also highlighted the strong European message of the European Cancer Organisation (ECO) on the "Right to be forgotten".
His speech evolved into the importance of working on new terminology such as: "Living with and/or Beyond Cancer".
Larissa Nekhlyudov from Dana Farber (USA), then addressed the notion of the different periods or phases of the disease that integrate this notion of survivorship. She drew on a very interesting evolution of the definitions of the phases of the disease since the beginning of the 21st century and indicated that it was necessary to be "global but specific". 
Finally, Ana Casas, a patient and medical oncologist, brought her own perspective on the disease and the notion of survivorship, highlighting the importance of working together to enable the patient to move forward in the changes experienced to become more in tune with a "New Normal Life".
Chan R. "The NCI/MASCC Definitions of Cancer Survivorship, Including the Rationale for this Using Such a Wide-Ranging Definition." MASCC/ISOO 2021 Annual Meeting. 
Davies A. "The "European" / Palliative Care Perspective that the Term Cancer Survivor Should be Restricted to Certain Groups." MASCC/ISOO 2021 Annual Meeting. 
Nekhlyudov L. "Using Phases of Cancer Survivorship Rather than Just the Term Cancer Survivorship." MASCC/ISOO 2021 Annual Meeting.
Casas A. "Cancer Survivorship - A Patient's Perspective." MASCC/ISOO 2021 Annual Meeting.
A patient's view of supportive care needs

Ms. Gatellier, a patient expert and member of several working groups in Japan and internationally, gave an uncompromising account of the demands of cancer patients, especially for supportive care: inspiring!
As part of the joint session between MASCC and JASCC (Japanese Association for Supportive Care in Cancer), we had the chance to hear from Ms Gatellier, who is an expert patient. Although her talk was part of a session on rare cancers, she was careful to put the word rare in brackets in her title, and she spoke about all patients. Ms Gatellier is herself undergoing treatment for a brain tumor, which she mentioned in her introduction.
She first reported the results of a survey carried out by a Japanese association (Rare Cancer Japan) of which she is a member, with 502 patients: 63% women and 60% over 40 years old, all suffering from a "rare tumor". Information is a major issue, or rather the lack of information on the disease and its symptoms for almost one patient out of two. The Internet remains the leading source of information, at 85%, far ahead of the hospital (66%) which is on a par with patient associations. The need for adapted information is the most important request from patients, even ahead of access to new treatments. In November 2020, a White Paper was published in Japan, focusing on early access to supportive care from diagnosis.
Outside Japan, and with the support of two associations (AACR Survivor/Scientist Program Patients Advocate in the United States and EUPATI - European Patients' Academy on Therapeutic Innovation – Patients Experts in Europe), she then gave an overview of the situation of patients and the needs expressed.
As far as the United States is concerned, although there are recommendations concerning early and broad access to supportive care (ASCO), these are in practice poorly applied and in a very disparate way from one center to another: lack of knowledge of the resources that do exist, both by patients and by doctors, and above all lack of coordination around patients. The need to meet and share with other patients is also an important point.
In Europe, if the existence of multidisciplinary meetings is welcomed, access to supportive care in hospitals seems to be a little better organized. On the other hand, the feeling of abandonment of patients once they return home remains a real unresolved problem: lack of coordination there again, no or little supportive care in town.
The solutions proposed by Ms Gatellier involve a more systematic assessment of support care needs, from the moment of diagnosis, access to patient associations, and the implementation of real care coordination.
Let's listen to her and go for it!
Gatellier L. "(Rare) Cancer Patients Unmet Needs with Regards to Supportive Care." MASCC/ISOO 2021 Annual Meeting. 
Models in supportive care

Highlights: From evidence to economic difficulties, how to develop supportive care in cancer? Work in progress.
Developing supportive care can also face economic barriers and be considered a luxury in some countries. Enrique Soto Perez de Celis addressed this issue by recalling that cancer is the leading cause of death in most parts of the world and that more than a third of the world's population lives in difficult economic circumstances. Supportive care services are developed in 69% of high economic regions and only 5% of patients in low economic regions have access to them. Networks, therapeutic, material and human resources are often lacking. An overview of the situation in different countries was presented, with many initiatives, as well as legislative work to develop supportive care, especially in South America. 
Soto Perez de Celis E. advocated for the development of training worldwide and especially in developing countries, while taking into account cultural exceptions and specific approaches that need to be adapted to, starting with educating patients themselves.
An approach on the level of evidence of supportive care models was also presented in this virtual plenary session by Scotté F. through a simple question: "Is there a supportive care model? ".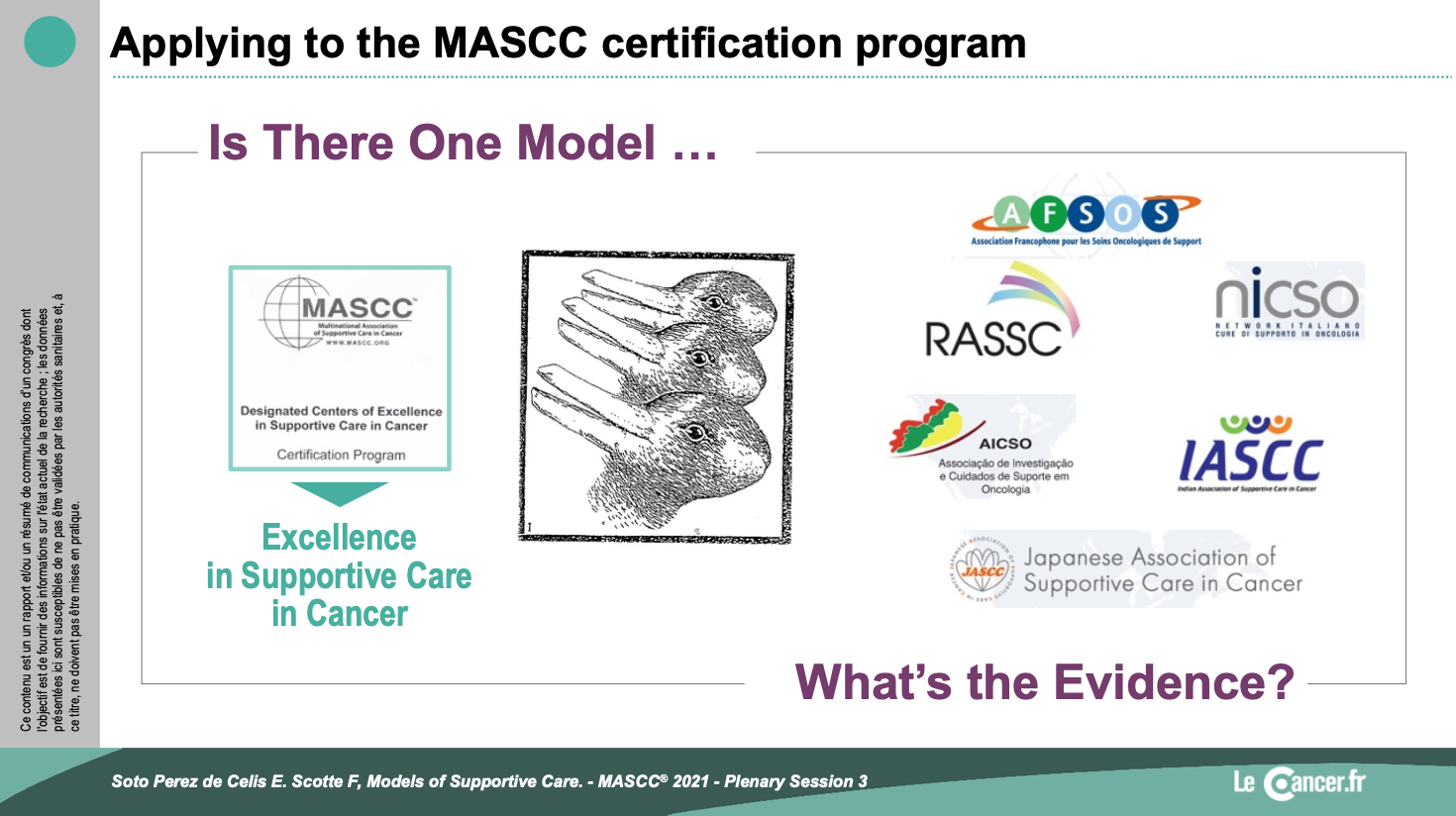 These models exist all over the world, depending on the country and the continent, and can be supported by learned societies through recommendations, establishments that are themselves models in the innovation of cancer care, but also through clinical research that makes it possible to prove the benefits of this or that approach. The basis of the reflection must above all be to put the patient back at the center of the care and to bring the therapeutic cancer teams to collaborate with the therapeutic patient teams.
An approach to supportive care by three areas of knowledge of the tolerance of anti-cancer drugs, supportive treatments and techniques but also of organizations has been proposed. Levels of evidence exist regarding knowledge and better management of anti-cancer drugs and several examples were given. The use and knowledge of supportive treatments is essential to develop a supportive care model and their dissemination is essential. Finally, organizational models based on clinical research but also on the use of validated evidence from the three fields of approach make it possible to promote coordination between teams. These organizational models are all based on an approach based on the assessment of the patient at any stage or phase of his or her illness and can now be supported by digital tools which should make it possible to strengthen and optimise the human resources in contact with patients and their families. After presenting several study results and an organizational proposal being developed at Gustave Roussy (France), Scotté F. invited participants to become MASCC members in order to share experience and levels of evidence to apply for the MASCC Certification Program.
Soto Perez de Celis E. "Supportive Care - A Luxury in Low and Middle Income Economies?" MASCC/ISOO 2021 Annual Meeting.
Scotté F. "Models of Supportive Care - What's the Evidence?" MASCC/ISOO 2021 Annual Meeting. 
Impact of the oral microbiome on mucositis during allografting

The role of the gut microbiome is becoming better understood. It seems that the oral microbiome may also be of interest: here on the occurrence of mucositis in allograft patients, with possible new therapeutic leads.
The occurrence of mucositis is frequent in patients after therapeutic intensification and bone marrow allograft. In addition to the impact on the quality of life of patients, in particular due to pain, these mucites prolong hospitalizations and can be complicated by infection.
The study presented here focused on the oral microbiome and its evolution in these patients. While the role of the intestinal microbiome is the subject of much work, including therapeutic work with fecal transplants, this is not yet the case for the oral microbiome.
The qualitative and quantitative analysis of the oral microbiome was carried out in 30 patients who were to undergo intensification with bone marrow transplantation for a haematological pathology.
Samples were taken before treatment, at the onset of mucositis and after recovery from mucositis.
It should be noted that all patients had mucositis which was treated by photobiomodulation.
The quantitative analysis shows a depletion in the diversity of the microbiome after transplantation, with also qualitative modifications.
Above all, it seems that the presence of certain bacteria could be correlated with the severity of mucositis (this is the case for Pophyromonas), while other bacteria are associated with less prolonged mucositis (this is the case for Lactobacillus). Machine learning analysis was used to refine these results.
The study of the oral microbiome of patients prior to allograft transplantation could make it possible to identify patients at risk of severe and prolonged mucositis. It remains to be seen whether modification of the microbiome is possible and whether this would have a therapeutic effect.
Bruno J. "Oral Proffered Paper: Oral Microbiome Influences the Clinical Course of Oral Mucositis in Allogeneic HSCT Patients." MASCC/ISOO 2021 Annual Meeting. 
Guiding patients in self-management of symptoms

The value of PROM (patient reported outcomes management) is well established. But how can we help patients to recognize and report their symptoms, and to use the digital tools that allow this?
Numerous studies show the interest of assessing the symptoms that patients treated for cancer may suffer from by these patients themselves: the data collected in this way are more precise and exhaustive than when this collection is done by a health professional, doctor or nurse. In addition, this allows near real-time monitoring of patients, thus opening up the possibility of a rapid and appropriate response, with in particular the early detection of toxicities. The development of digital tools (applications, internet platforms, etc.) has further accelerated this process, making it possible to benefit from the reactivity.
A recent review (Aapro 2020) identified 38 digital applications focused on PROs, 21 of which also include the possibility of directly advising the patient to react without necessarily going through the health professional (self-management).
The specifications for these tools include ease of use for the patient, the ability to empower the patient, the transmission of information in real time or the integration of alerts in case of emergency. First of all, the patient must be convinced that this tool is useful to him or her in order to appropriate it. The connection between the digital application and the patient's computerized file is an essential element.
Furthermore, we must not forget the need to train nurses in the context of the PROs, not only in relation to the digital tools and the management of the symptoms thus identified, but especially in the new relationship created with the patient. The nurse must also have direct access to the patient's referring doctor and to any other expertise that may be required (e.g. a psychologist), and a doctor must be available in case of emergency.
Digital tools are a great opportunity to improve the care of cancer patients, provided we do not forget that they are the first users.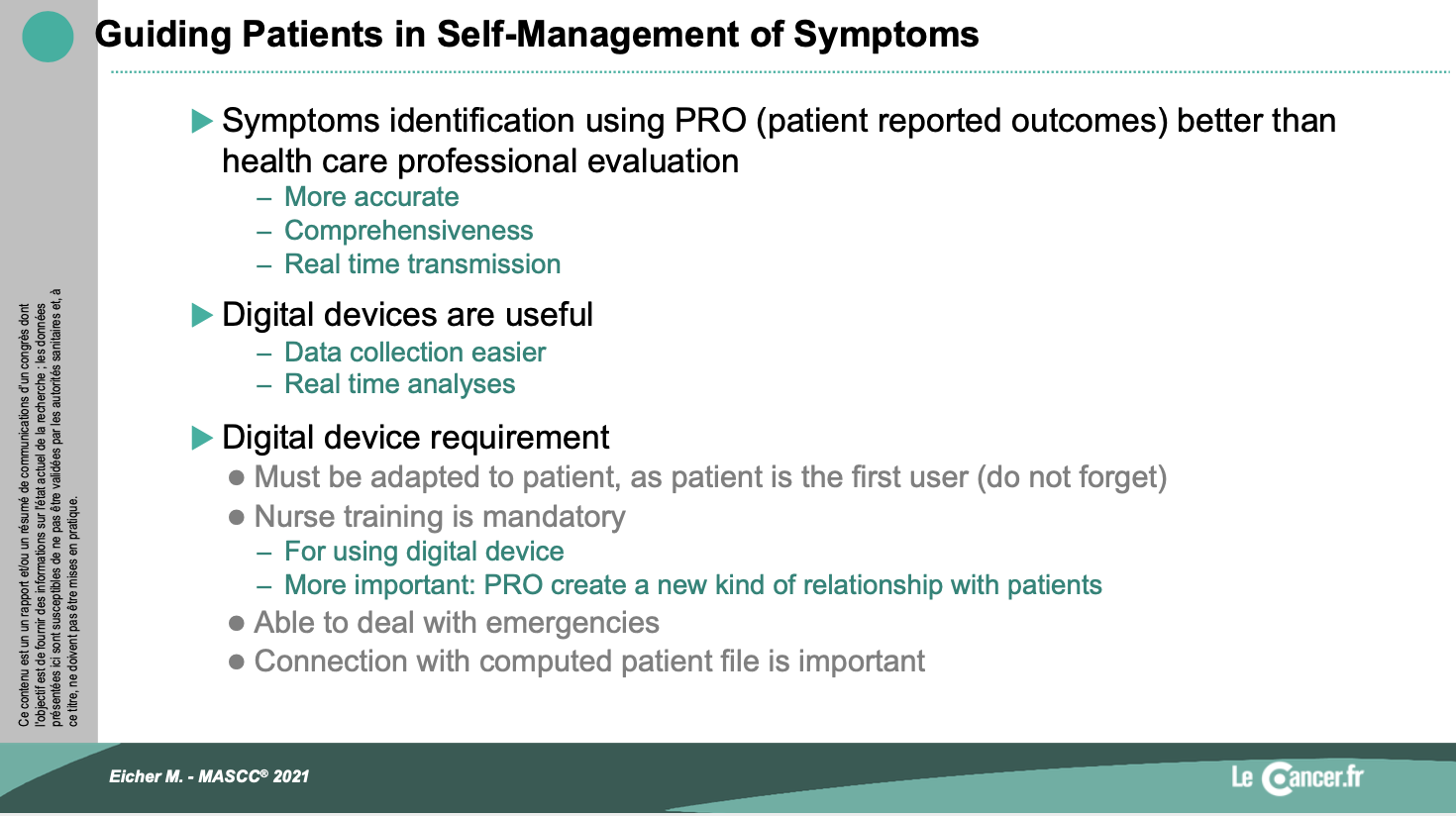 Eicher M. "Guiding Patients in Self-Management of Symptoms." MASCC/ISOO 2021 Annual Meeting. 
A new cognitive protector in malignant glioma

Metalloporphyrins are molecules with a potential both radioprotective effect on normal cells and radiosensitizing effect on tumor cells. The results of this phase 1 trial seem to show a possible effect on the improvement of cognitive abilities in patients treated for glioblastoma with radiotherapy.
Radiotherapy, often combined with temozolomide chemotherapy, is the mainstay of treatment for high-grade gliomas. Cognitive complications induced by this type of treatment, often in the form of permanent sequelae, are a concern in clinical practice.
Metalloporphyrins are a new class of molecules with oxidative-reducing capacity, potentially capable of combating the local inflammation induced by cerebral radiotherapy.
BMX-001, a compound of this family, was developed with the aim of both potentiating the effect of radiotherapy on tumor cells and protecting normal cells (neurons), with the ability to cross the blood-brain barrier.
The results reported here are from a phase 1, "first in human" trial in 15 patients with glioblastoma treated with radiotherapy combined with temozolomide chemotherapy after surgery.
BMX-001 was administered subcutaneously twice weekly for 8 weeks. The primary objective, as a phase 1 study, was to define the tolerability of BMX-001 and the maximum tolerated dose, with secondary objectives of efficacy and assessment of patients' cognitive function. For this purpose, various tests were used, taking into account all the cognitive components (visual and auditory memory, psychometric tests, execution speed, verbal association, etc.). This battery of tests was carried out before treatment and then repeated 2 months and 6 months after the end of the radiotherapy. 
The treatment was generally well tolerated, arterial hypotension being the limiting toxicity. The results concerning the cognitive state of the patients are encouraging, with an improvement in performance for a majority of patients, particularly clear at 6 months (9 evaluable patients). A phase 2 trial has just completed its inclusion period.
If these results are confirmed, BMX-001 could represent a significant advance for all patients suffering from glioblastoma, and more broadly for all patients undergoing cerebral radiotherapy.
 Peters K. "Oral Proffered Paper: Cognitive Outcomes of Phase 1 Trial of Novel Metalloporphyrin Radioprotectant and Radiosensitizer in Newly Diagnosed High Grade Glioma Patients." MASCC/ISOO 2021 Annual Meeting. 
Discerning physical, emotional and cognitive fatigue

Fatigue in oncology must be assessed in all its dimensions in order to personalize the therapeutic attitude, including for patients in the "post-cancer" phase.
Fatigue is the most common symptom described by cancer patients, altering quality of life and oncological treatments safety. During chemotherapy, the prevalence is estimated to be around 80% and persists beyond 5 years for one patient out of three.
This descriptive study analyzed data from 2244 patients in Baden-Württemberg (Germany). Asthenia was assessed by the EORTC QLQ-FA12 questionnaire.
The results were in favour of a fatigue, which was considered more important for cancer patients compared to that expected for individuals of the same sex and age in the general population. These data concerned physical (p=0.0001), emotional (p=0.0059), cognitive (p=0.036) and total (p=0.0002) fatigue.
Differences were observed according to tumor type :
stomach, lung, pancreas and kidney: mainly physical and emotional fatigue

bladder, rectum: lower physical fatigue, mainly emotional fatigue.
In conclusion, the prevalence of fatigue in oncology requires an adapted but often difficult management, including for cured patients. Indeed, asthenia persists even more than 2 years after diagnosis.
Schmidt M. "Oral Proffered Paper: Comparison of Physical, Emotional, and Cognitive Fatigue Across Different Cancer Entities." MASCC/ISOO 2021 Annual Meeting.
Vitamin C chewing gum for radiation-induced xerostomia

Chewing vitamin C tablets (500 mg) twice a day throughout radiotherapy for head and neck cancer improves quality of life by decreasing the xerostomia score and limiting the deterioration of hyposialia.
Vitamin C stimulates salivation through its sour taste, metabolic role and anti-oxidant effect. This award-winning study compared a 500 mg ascorbic acid tablet with mechanical stimulation (sugar-free chewing gum) in patients pre-treated with radiotherapy for head and neck cancer on the severity of clinical signs of radiation-induced xerostomia and on quality of life.
Patients were divided into two groups (vitamin C vs. sugar-free chewing gum) and asked to chew their tablet twice a day for at least 5 minutes throughout the treatment period. The evaluation carried out at D1, D7, D14, D28 and at the end of the radiotherapy was based on the collection of saliva on a cotton ball for 2 minutes after the 5 minutes of chewing, with a result given in grams of saliva collected/minute, as well as on the Xerostomy score (XS) and the quality of life questionnaire EORTC QLQ H&N35 at D1 and at the end of the irradiation.
Both cohorts of 20 patients each were well balanced at inclusion with the same salivation value.
The results showed an improvement in xerostomia scores in both cohorts, highlighting the beneficial role of chewing.
Saliva reduction was significantly better in the vitamin C cohort compared to the sugar-free chewing gum cohort, both on unstimulated and stimulated saliva, with significant superiority from baseline in favour of vitamin C.
Quality of life was significantly better at the end of treatment in the vitamin C arm (p=0.01).
Similarly, xerostomia scores were significantly improved for patients chewing vitamin C tablets from day 14 until the end of radiotherapy (p=0.01).
Although the cohorts were small, unblinded and there was no post-radiation assessment, these results are encouraging for ENT cancer patients.
Dutta S. "Oral Proffered Paper: Chewable Vitamin C  In The Management Of Radiation-Induced Xerostomia: Is It The End Of The Dark Tunnel?" MASCC/ISOO 2021 Annual Meeting.
Should we be concerned about thrombosis in oncology patients hospitalized for COVID19?

In this study, thromboembolic events occurred in less than 10% of cancer patients hospitalised for COVID19 infection and did not appear to be associated with excess mortality.
The risk of thrombosis during hospitalization for COVID-19 infection has been well described and justifies the initiation of preventive anticoagulation with low molecular weight heparin (LMWH). The prothrombotic factors inherent in cancer suggest a higher prevalence and severity in this population.
This Spanish single-center descriptive study analysed 189 patients treated for breast cancer and diagnosed as Sars-CoV-2 positive. Of these, 32.8% were undergoing systemic oncological treatment.
A total of 56 patients (29.6%) were hospitalized and 10 (5.2%) died (8 severe pneumonia, 1 Guillain-Barré syndrome and 1 aortic dissection).
A thromboembolic event was diagnosed in 5/56 patients (8.9%): 4 pulmonary embolisms, 1 femoral artery thrombosis. Among these patients, 2/5 were undergoing hormone therapy (anti-aromatase).
The treatment consisted in the introduction of curative anticoagulation with LMWH and thrombectomy for a femoral artery thrombosis. No bleeding complications were observed. No deaths from thrombosis were reported.
In conclusion, this study seems reassuring regarding the frequency and severity of thromboembolic events in this population, but is hampered by the methodological bias of retrospective studies and the small number of patients.
Illarramendi J. "Oral Proffered Paper: Observational Study on Thromboembolic Events During COVID-19 Infection in Patients with Breast Cancer." MASCC/ISOO 2021 Annual Meeting.
Thanks to LeCancer.fr for preparing these summaries 
---
MASCC/ISOO 2021 Presentation Summaries
Virtual  •  June 24-26, 2021  •  #MASCC21
Day 1  |  Day 2 |  Day 3