Any news items to share?

Send them to

[email protected]
---
From the Editor
This month, MASCC President Raj Lalla discusses fear and heroism in the wake of the global pandemic. We also want to express gratitude to our members for your continued support and hope for health and safety for you and your families during this very difficult time across the globe. MASCC has postponed our 2020 conference to 2021.  For new dates and details see below. MASCC is pleased to announce that the Gustave Roussy Institute in Paris, France has been recognized as a MASCC Center of Excellence in Supportive Care in Cancer. We extend a warm welcome to all the new members who joined us in February.
All recent issues of the MASCC Society News are available online at https://www.mascc.org/newsletter-archive. Older issues (before 2013) can be found in the back pages of our journal, Supportive Care in Cancer.
~ Angela Perez, Editor
---
Message from the President, Rajesh Lalla, DDS, PhD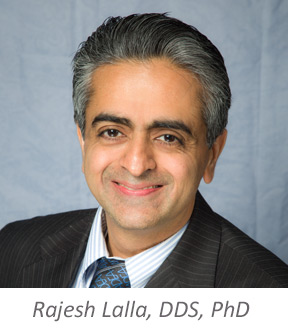 Dear Colleagues,
In his inaugural presidential address during the depths of the Great Depression in 1933, US President Franklin D. Roosevelt famously said, "The only thing we have to fear is fear itself- nameless, unreasoning, unjustified terror which paralyzes needed efforts to convert retreat into advance".
These wise words from FDR are worth repeating during the current crisis. Today we are facing an enormous global challenge, which has caused widespread fear and panic. People are afraid for the well-being of themselves, their families, their friends and, in case of healthcare providers, their patients. I feel these fears too. And we should all do everything we can to protect each other from this pathogen. However, perhaps we will be less afraid if we remind ourselves that our fragile life is inherently full of contradictions that we all experience, including joy and suffering; birth and death.
Any crisis can bring out the different sides of each of us. On one hand, it can make us more selfish to protect ourselves and our loved ones. On the other hand, we are seeing new heroes emerge every day, including our own MASCC members who are selflessly caring for their oncology patients through these difficult war-like conditions. On behalf of MASCC, I salute each of you who is working to help your patients navigate these turbulent times. You are truly heroes!
Let us resolve to take precautions but not panic, to protect our loved ones but not at the expense of the common good, to do what is right, and to be kind to one another during this emotional time. We will get through this together.
Sincerely,
Raj


---
MASCC/ISOO 2020 Conference Postponed to 2021

The 2020 MASCC/ISOO Annual Meeting is postponed to
24-26 June 2021 in the same location - Seville, Spain.
This postponement is due to the COVID-19 pandemic, which has significantly worsened since our last communication. It takes into account the health and safety of attendees, as well as the border closures and travel restrictions that are currently in place. The decision is based on consultation between the MASCC Executive Committee, the MASCC Board, ISOO, and our conference organizers, MCI.
We will email registered delegates, invited speakers, and sponsors with additional details within 30 days. For all bookings/payments made through the meeting website (registration, hotel, workshops, dinner, content capture), delegates will be given the option to have these bookings automatically transferred to the June 2021 meeting or to request a refund. We will give you a few months to make that decision. All accepted abstracts will be honored for the June 2021 meeting. You will also have the option to update or withdraw your submitted abstract.
Please change or cancel any travel or hotel arrangements you have made independently. Most airlines are currently waiving change fees and providing a full credit for tickets that normally do not allow changes.
As you may know, our 2021 meeting was originally planned for Yokohama, Japan, as a joint meeting with the Japanese Association of Supportive Care in Cancer (JASCC). We are very thankful to our partners at JASCC for their understanding of this situation; we plan to hold the meeting in Japan in another year. The 2022 meeting is still planned for Toronto.
Thank you for your patience and understanding. We hope to see you in Seville next year!


---
Call for Interviews
on Supportive Cancer Care and COVID-19
With the rapidly changing and evolving practice in managing COVID-19, MASCC would like to share information on our members' professional experiences amongst our community. If you are interested and able to share your professional experiences, advice and advancements during this time of international crisis, we will find a convenient time in your schedule for a brief 30-minute interview. Please contact Angela Perez today at [email protected].


---
Information Sources Related to COVID-19
To aid our members during this difficult and uncertain time, MASCC is sharing links to COVID-19 related information, including management of oncology patients. Our website will be updated as new resources are released or shared with us. The resources listed are intended to guide members to information most useful to them.
Categories include: groups with an oncology focus, general information for healthcare professionals, and scientific journals. 
Members are encouraged to share relevant links. Send suggestions to Angela Perez at [email protected].


---
Call for members to Join
European CanCer Organisation Working Group

MASCC has recently become a member of the European CanCer Organisation (ECCO). We are looking for members to volunteer to be part of the MASCC-ECCO working group to represent supportive cancer care. ECCO, based in Europe, is a not-for-profit federation of member organizations working to reduce the burden of cancer and improve outcomes and the quality of care for cancer patients. The organization weighs in on European Union policy, advocates for positive change, and serves as a united voice for the European cancer community.
Potential MASCC members of the working group will ideally be located in Europe and have an understanding of European Union policy. Members will represent MASCC for ECCO's new and existing projects - scientific, educational or policy focused. If you are interested in volunteering or would like more information, please contact Melissa Chin.


---
Gustave Roussy Institute in Paris, France Recognized as a MASCC Center of Excellence in Supportive Care in Cancer

MASCC is proud to announce that the Gustave Roussy Institute in Paris, France has been recognized as a MASCC-Designated Center of Excellence in Supportive Care in Cancer. Gustave Roussy is a European Cancer Center for patient care, research and teaching, and treatment for all types of cancer. The certification program recognizes oncology centers that demonstrate best practices in supportive cancer care. MASCC's certification program aims both to educate and to encourage a supportive care focus among oncology healthcare professionals. The certification will be presented at the 2021 MASCC/ISOO Annual Meeting.  The application was organized by MASCC Board Member, Florian Scotté, MD, PhD, who heads the Interdisciplinary Cancer Course Department at the Gustave Roussy Cancer Center.  Read more.
 
---
Upcoming Conferences
Note: Rescheduling and cancellations occur frequently due to COVID-19. Please double check conference home pages for latest updates.
August 21-22, 2020
RESCHEDULED TO August 20 -21, 2021
Third Sapporo Conference for Palliative and Supportive Care in Cancer
Sapporo, Japan
September 14-15, 2020
35th International Conference on Oncology Nursing and Cancer Care
Current Challenges and Possibilities
Tokyo, Japan
September 18-22, 2020
ESMO 2020 Congress
Madrid, Spain
October 16-18, 2020
17th International Conference on Integrative Oncology
The Science of Living Well with Cancer
Baltimore, Maryland
---
Connect With Us!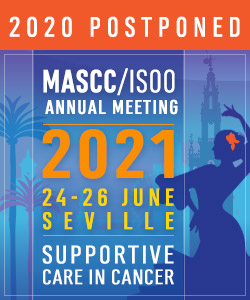 For the latest updates on the 2021 MASCC/ISOO Annual Meeting, see the Annual Meeting Website.


---
New MASCC Members
A warm welcome to the new members who joined us in February 2020!
Australia
Georgette Radford
Jacqui Scott
Courtney Subramaniam
Darren Haywood
Elise Bruning
Ghanyah Al-Qadami
Hayley Grant
Ines Semendric
Jade Newton
Jenny Davies
Kristin Mellet
Liyuwork Dana
Niamh O'Neill
Raelee Golding
Shu Yie Janine Tam
Skye Marshall
Taylor Wain
Brazil
Débora Pereira
Eliana Minicucci
Canada
Kevin Saganski
China
Zhihuan Zhou
Estonia
Mare Kolk
France
Aurélian Carnot
Alain Cras
Alexandra Redon
Amandine Bertrand
Amandine Quivy
Angelique P. Rebouta
Arlette Pommeyroi
Anne-Sophie Willet
Beatrice Estavoyer
Marie Beaumont
Caroline Bouliere Hurel
Corinne Leder
Caroline Marquis
Céline Féger
Alexandra Zagorodniouk
Jacques Croize
Ingrid Delplace
Christelle Besnard-Charvet
Delphine Bloch
Emile Fourrey
Laure Froment
Marie Giudicelli
Bruno Hammel
Helene Dutilh
Helene Mauri
Henri Yves Truong Tan Trung
Barbey Jean
Jean-Vincent Bourzeix
Jean Baptiste Maret
Jennifer Dancer
Jean-Hubert Gueguen
Julie Branchu
Laura Thery
Laure Doudard
Lila Gilis
Michéle Arbieu
Marc Mohagheghi
Margaux Mentec
Marie Laure Fountoura
Marielle Chamereau
Marie-Francoise Agasse
Michel Brun
Anne Marie Morez
Morgana Pourier
Morgane Toubon
Marie-Pascale Bettio
Muriel Palisses
Natalie Lehmann
Céline Bernadin
Phillipe Pouillart
Phillipe Trenz
Régine Ferry
Samir Awadi
Sophie Morin
Sandrine Bourny Latarche
Suzanne Assari
Sébastien Klein
Stanislas Quesada
Sylvie Bidon
Sylvie Lavaud
Virginia Bouchet
Bill Baron Wankpo
Willy Mangin
Mohammed Yassine Belhadj
India
Hitesh Dika
Krithika Rao
Italy
Augusto Poropat
Giorgia Albini
Japan
Hitoshi Kawazoe
Republic of Korea
Wonse Park
Netherlands
Anja Timmer-Bonte
Jorine Vermaire
Margot Geuke
Portugal
Alberto Alves
Cristiana Marques
Iněs Leão
João Fraga
Joana Marinko
Sandra Isabel Custodio
Slovenia
Maja Ivanetic Pantar
Singapore
Ding Quan Ng
Ning Yi Yap
Sweden
Kristina Skallsjö
Switzerland
Dougard Vérène
United Kingdom
Andrew Jenks
Benjamin Thwaites
Crawford Currie
Emma Dillsworth
Nichola Gale
Mark Cawley
United States
Amita Ghuman
Allison Leahy
Christian Sinclair
Caroline Diorio
Daniel Eison
Caitlin Elgarten
Katelyn Oranges
Tracy Jubelirer
Seema Kurup
Kamal Singh
Lorinda Coombs
Lisa Holle
Lori Schiller
Hafsat Mashegu
Megan Thomas Hebdon
Michael Dougan
Naveen Premnath
Nicole Tundidor
Pravin Chaturvedi
Ramiz Sehom
Sarah Wawrzynski
Sara Bybee
Sarah Lo
Tamara Miller
Tisdrey Torres
Victoria Reesman
Lisa Vitlip
Yufen Lin
---
Future MASCC Meetings
Mark your calendar and watch for more news about future MASCC/ISOO Annual Meetings!
---
Links to Notice

Opportunities

Supportive Care Positions on clinical and research positions in supportive cancer care. 


#MASCC20

MASCC's Social Media Strategy Toolkit and Twitter Quick Guide were designed to help MASCC and its members establish a global social media presence.

Join MASCC's buzzing online community on
Facebook, Twitter & LinkedIn